Books Recycling and Re-use
Every year in the UK thousands of tonnes of used books go to landfill or are incinerated. These items could be re-used or recycled.
One of the main aims of the Paperbackproject is to prevent huge amounts of books being sent to landfill every day. We have monitored this over a period of time and calculate that, in addition to what the average household will throw away, a typical high street charity shop will dispose of 10-12 tonnes of books every year.
Thats over 30,000 books from just one shop!!
Now multiply that by the number of charity shops on your local high street...
However, progress is being made and we are working with many national charities and individuals to find better ways to dispose of unwanted books.
How are we doing this? We are:
Investing time and money into promoting the benefits of recycling

Raising awareness of how a large percentage of these unwanted items can be re-used

Co-ordinating the collecting of large amounts of books that would normally be 'binned'

Encouraging the re-distribution of suitable books to designated charities or community organisations

Recycling hundreds of thousands of unusable books
Paperbackproject.com is the registered website for The Paperback Project CIC and although the website is fairly new the Paperbackproject has been active since 2005. The Paperbackproject CIC is committed to raising awareness of book re-use a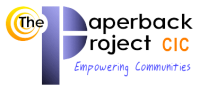 nd recycling.
Remember this...
Your unwanted books can be used by community groups and local charities to raise funds...
get suitably recycled to help the environment...
or be used to earn yourself extra money!!